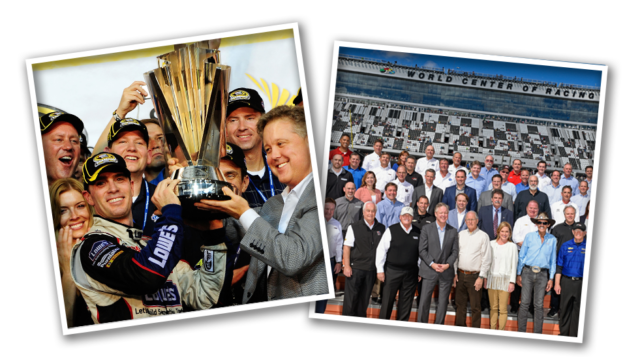 Brian France was a third-generation NASCAR Chairman and CEO, following his grandfather, NASCAR founder Bill France, and his father, Bill France Jr. Growing up, he spent much of his time at the track in Daytona Beach. He spent more than 20 years with the company in various roles, and 15 years as its Chairman and CEO. During his time with NASCAR, Mr. France made significant contributions to the organization's growth, and received national recognition for role in NASCAR's marketing, safety and environmental initiatives.
Under Mr. France's leadership, NASCAR negotiated more than $12 billion in television rights fees. An innovative and future-oriented leader, Mr. France positioned NASCAR as primarily a rights-seller, transforming it into a smart marketing organization committed to bringing value to network partners, sponsors and fans. In 1999, he received national recognition after leading NASCAR's marketing division in securing a $2.6 billion television rights deal. In 2013, he spearheaded a landmark 10-year rights agreement with NBC Sports Group, granting NBCUniversal exclusive rights to select national touring series races and other live content. That same year, he also extended and expanded NASCAR's rights agreement with FOX Sports. 
Mr. France played a major role in boosting NASCAR's digital presence. He led the re-acquisition of NASCAR's digital rights and oversaw the re-launch of NASCAR.com. In 2013, he unveiled the NASCAR Fan and Media Engagement Center (FMEC) at NASCAR Plaza in Charlotte, North Carolina. The Center was the first of its kind in the industry and provided NASCAR with analytics and response tools to better serve its partners, connect with fans and engage with local, national and global media. His approach to NASCAR's marketing revolutionized the organization and positioned NASCAR as a leader in the sports industry. 
Through France's
efforts, NASCAR
has become more
sustainable, safe
and visible.
During his time as top NASCAR executive, the company developed NASCAR Green to minimize NASCAR's environmental impact and increase focus on sustainability initiatives. NASCAR Green has become the largest recycling and environmental sustainability program among all U.S. sports, establishing NASCAR as a leader in the industry as well as the larger business community.
Brian France introduced new safety standards to NASCAR, the most extensive in the sport's history, that improved safety for both drivers and fans. He was a major proponent of the NASCAR Research and Development Center, a facility opened in 2003 dedicated to the ongoing safety and operational efficiency of the sport. Mr. France is also the founder and former Chairman of  NASCAR's Diversity Council, an organization dedicated to promoting greater diversity within the motorsports industry. Under his leadership, NASCAR's sponsorship participation drastically grew, giving NASCAR more Fortune 500 sponsors than any other sports organization. 
Brian France has been recognized by The Sports Business Daily, Sales and Marketing Executives International (SMEI), Advertising Age, Promo Magazine, Broadcasting and Cable Hall of Fame and TIME Magazine for his professional contributions to NASCAR and the motorsports industry.